TF CUBE I 9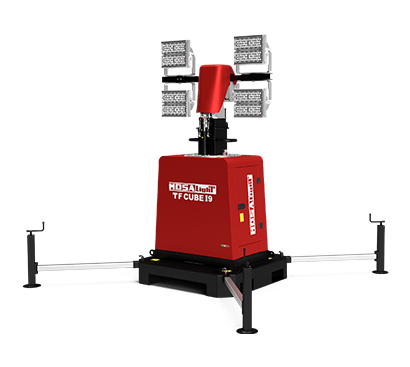 Mobile light tower without generator.
- MAXIMUM HEIGHT 9 M
- HYDRAULIC LIFT
- AVAILABLE BULBS: 4x240W LED, 4x350W LED, 4x1000W METAL HALIDES
- ON BASE WITH 4 STABILISERS
- STABILITY TO WIND GUARANTEED 80 KM/H
- EEC PLUG THREE-PHASE POWER SUPPLY 32A / 400V / 5P
The range of TF CUBE mobile light towers, without integrated generator set, is the ideal product for those who already have an energy source or connection to the power system.
It is characterised by extremely reduced dimensions and square shape that optimise and facilitate its positioning and transport on mobile vehicles.
The base, with 4 adjustable and removable anti-tipping stabilisers, guarantees a 80 km/h stability to wind.
The hydraulic lifting pole with safety valve, reaches a maximum height of 9 metres.
The different types of bulbs available ensure great versatility of use in any working environment and for outdoor and indoor applications.
Sectors of use: construction, rental, events, emergency.
TECHNICAL FEATURES
- Zinc plated telescopic mast
- Hydraulic raise/lower
- Safety valve for lowering the tower in case of hydraulic system failure
- 340 degrees manual mast rotation
- Certified wind proof up to 80 Km/h
- Two axes manually adjustable floodlights
- Base with 4 adjustable and removable stabilisers
- Lifting hooks and forklift pockets
- Prise électrique triphasée CEE 32A / 400V / 5P

- Dimension with tower closed: 1150 x 1100 x 2080 mm
- Dimension with tower open: 2590 x 2540 x 8700 mm
- Weight: 600 kg
AVAILABLE VERSIONS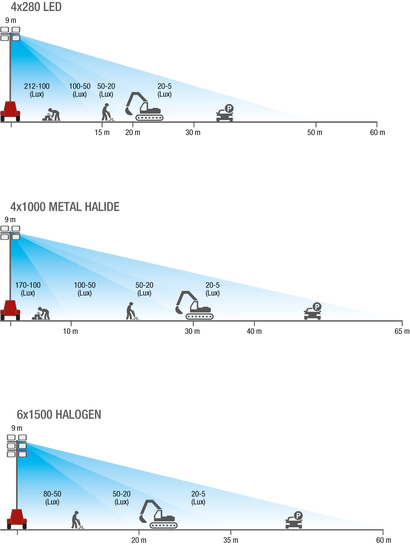 TF CUBE I 9 L-4x280
• 4 LED LAMPS 280W with single-phase power cable
• Illuminated area: 4200 mq - 18Lux average
• Total Lumen: 144700
TF CUBE I 9 J-4x1000
• 4 METAL HALIDE LAMPS 1000 W with single-phase power cable
• Illuminated area: 4200 mq - 25 Lux average
• Total Lumen: 340000
TF CUBE I 9 A-6x1500
• 6 HALOGEN LAMPS 1500 W with three-phase power cable
• Illuminated area: 4200 mq - 16 Lux average
• Total Lumen: 21600